(updates are at the end)
Have you always felt a little sorry for people who have to write backwards and want to borrow your scissors but can't make them cut?
Now I'm in a position to know how they feel. And how about a one handed lefty! Even worse for things like tucking in your pants, putting on socks, tying shoes and brushing your teeth. Well, that's what it's like for me now.
Breckenridge, November 17, 2011. With no warning, an out-of-control snowboarder blind-sided me from behind doing about 60 mph (I was innocently doing smoothly coordinated turns at a controlled 25-30 mph on a groomed black slope with no traffic, perfectly granular snow and excellent visibility) on a beautiful day. What happened next, thankfully, I do not know. Everybody asks, was the snow-boarder a wise-ass  teenager? Surprisingly, the perpetrator was 30+ years old and should have known better. (Later, he was nice enough to call and ask how I was doing.) When I woke up, the ski patrol lady was leaning over my prone body asking how many fingers did I see. She followed the patroller who gently sledded me down to the Patrol Hut in their emergency toboggan. Inside the Hut, they showed mucho concern: asked me how all parts of me felt, did I need a doctor, etc, took down my info and then let me go after 30 minutes of observation. Spent the rest of a beautiful day on the deck at Breck watching everyone else have fun and fuming about my condition. Then drove us (Martha was with me) the two hour trip home, probably complaining all the way. Several days later went to my doc because shoulder was getting worse, not better. X-ray said no broken bones, nothing dislocated. Doc said here take these pills for arthritis pain, and rest. After another few days of obvious weakness (and pain), finally got in to see Doc D., a shoulder specialist, who did a 10 second physical test (hold my arm out and push up his hand) and ordered an MRI. Which a week later he showed me on his 15″ monitor and said: " See this tendon down here? It's supposed to be over here. You need surgery".*  On December 29, Doc D. performed surgery and installed five screws arthroscopically.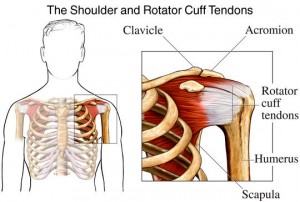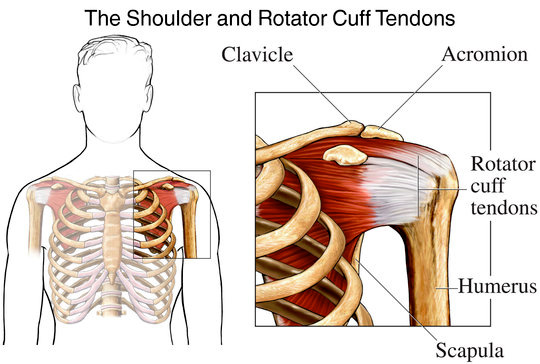 Surgery went fine, Martha (the angel) stayed over for two nights to make sure everything was OK. Pain pills worked to keep me sane and now I'm normal in every way except my right arm has to stay next to my chest. Not allowed to reach for anything (which is impossible from pain anyway) and (supposed to be) wearing a sling. For six weeks!
Doc D. has been real nice but never seems to have time to tell me what's going on (three visits so far, total face time has been under 7.5 minutes). Here is a list of what's showed up on my insurance to date that he has fixed in my shoulder (So far up to $18,000, I'm glad I have insurance):
Tendon 'sprain' (which means torn) Supraspinatus, Infraspinatus, Subcapularis
Osteoarthos Uns Gen/Loc
Rotator Cuff Sprain (means all the above?)
Bicipital Tenosynovitis (Biceps ripped)
Unspecified D/O Burs & Tend Shoulder
Artcular Cart Disorder Shoulder
Recurrent Dislocated Shoulder
This does not include X-rays, MRI with injection, or Physical Therapy
Update in mid-Jan: Everything is doing fine now except for the limit on activity. No skiing, biking, motorcycling or hiking in the mountains where losing balance would ruin me again. Sleeping is difficult, very little rolling around is possible. Driving is OK, thank goodness no stick shift and most needed controls are on the steering wheel.
Many of you asked for details, so stop reading here if you are squeamish or about to eat. The diagram above shows the shoulder tendons, which are referred to a 'rotator cuff'. These tendons are one big sheet as wide as your fingers together. Medically, this sheet is divided into sections with individual names. When you get an injury, your doc can refer to a small damaged area with a name. In my case, the entire sheet was torn and some areas completely ripped away from the bone.
During surgery, the ripped away parts were pulled back into place and then screwed back into the bone. To do this, Doc D. drilled a small hole in the tendon section, inserted a hook into the hole and pulled the tendon into position over the bone from which it was torn. Then, with a magnetic mini-screwdriver, he popped in a screw and tightened it down. Five times he did this. Don't know what he did to the partially torn tendons. The six weeks of immobility and months of therapy are required to let the tendons heal and grow back into the bone. The screws? Maybe they are part of me now. Hope they don't set off airport security.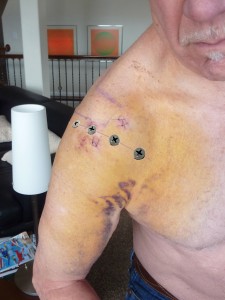 Plus, and as an injury bonus, my right arm bicep was ripped partly out from where it attaches to the shoulder (it's a really good feeling). During surgery, Doc D. epoxyed it back on.
How would anyone know all this anatomical injury and detailed medical repair info? Some has been learned from the internet, some from Kristin, my physical therapist.  Some of it was inferred** so don't believe 100% of everything you read here.
The final photo is of my shoulder two days after surgery. The entire arm turned yellow and purple, which were my high school colors – Go Bulldogs! After four weeks, the stitches are out, the bruising 90% gone and Doc says some of the screws will come out in February, depending. The prognosis is for strength conditioning to start in late Feb, and I may be using the shoulder fully in another 3-4 months.
The good things from this injury:
Much more adaptable to being injured and the recovery required (semi-ambidextrous)
Easier to relate to others with disabilities
Left-handed fingers only handshake makes a good conversation starter
The future will be better (strength back by the end of 2012)
Appreciate the physical condition with which (used to be) blessed
House is a lot more organized and free of 'hoarded' material than it was before I was crippled
Snow is not falling in Colorado (maybe it's a jinx this year and I'm glad)
*Always ask for qualifications, they say. So, I did ask the surgeon (Doc D. is maybe a 40 year old man) in very specific terms: 'Have you done these surgeries before?' Answer: 'Yes'.  Follow-up question: 'Well, about how many surgeries like this?' Answer: 'Alot'. Q: 'so 50, or 100?' A: 'More, a lot more.'
OK, great, doc, see you in surgery.
In the lobby, making arrangements for surgery, I asked his scheduling person: "How many surgeries does Doc D. have this week?' she answered: '27'. Surgery day for him is Thursday and sometimes Fri morning. Therefore, he has done more than 1,000 shoulder surgeries. Which is good for me, but how does he have time to see patients, operate, and also have a life?
Update Feb 2, 2012 – 5 weeks after surgery. Of course, shoulder feels much better now. Pain only when I move it to certain positions. Sling is no longer required. However, since it can be re injured, right arm stays against body unless supported. No reaching in any direction. Plus, impossible because it hurts. Still do most everything with left arm.
My follow-up appointment was rescheduled. Turns out my surgery doctor (Doc D.) suddenly has become seriously ill. In intensive care and only 40% chance to live. Something about his pancreas failing, along with other organs (they won't tell me more). He is 41 and looked the picture of good health two weeks ago. Then, while talking about my injury and doctor D's big problems, my new surgeon (Doc E.) admits that he has a brain tumor, it's incurable, he was operated on 6 years ago, and now he's not allowed to do surgery himself, just see patients like me. He's about 45 and seems sad describing his situation – he's raising two kids himself..
Well, I left the clinic feeling really bad about their predicaments, but a lot better about mine. I'll  be almost 69 and healthy in six months; they could be dead before turning 50.
Update Feb 12, 2012 – 6+ weeks after surgery. 10 more days make a big diff. Now I can tuck my shirttail in, sleep on my right side (kind-of) and start dreaming about using dangerous machinery again. (I am now up to $20, 600 in medical expenses, physical therapy not included.)
Update Mar 05 – almost ten weeks. My P.T. gave me a lecture: quit being a baby and start using your arm (Not really a lecture, she is much too professional to call anyone a baby. More like discreet advice.) After two days it's working. Shoulder still hurts but the whining has stopped. I'll be riding my bike soon, the weather is too nice – 70° today.
Update Apr 10 – almost 14 weeks. I have delayed this update, figuring everything would be back to normal after 3.5 months, and there would be rejoicing on my part. But, oh no. According to published statistics, by now, my shoulder should be healed and on the way to strengthening. Except, it still hurts when I lift my arm up, as in picking up a full glass off the table in front of me. Empty glass, fine. What is wrong? Quien sabe?  On the bright side, I have been out riding my bike and motorcycle, just can't do either for more than 30-40 minutes. Hiking, did a 5 mile 1300 vertical yesterday, everything fine til later when aching of shoulder started. Summary: shoulder is better but not nearly fixed and no weights in the gym for the right arm.
Update May 11 – 18 weeks. Just returned from a 400 mile motorcycle trip, so I'm fine in the activity category. But, still no strength, I can hold maximum two pounds out in front of me. I need to thank Kristen T. and the other REALLY great people at Spectrum Rehabilitation for making my (partial) recovery fun, despite my constant whining and complaining. And, my two doctors are doing much better: Doc D. is at home recuperating (still with tubes) and Doc E. tells me I'll be at 100% strength in a year. Doc E. seems happier, despite his (health related) reduced work schedule (Thursdays from noon to 5) (Sorry, only with a brain tumor can you get that schedule).
Update August 04 – 7 months since surgery. Today I benched 110 lbs, military pressed 50 lbs. 4 sets, 8-10 reps each. Machines (no free weights) so my left can help the right get through the painful arc. Right arm dumbbell overhead can manage only 20 lbs. Once weight is up, I can press maybe 25. Depending on what exercise and from what angle strength is measured, maybe I'm back to 50-80% of last November. But no arm wrestling or throwing football/ baseball, or playing Bball or tennis. Big trouble with the uneven bars. For sure, no boxing or kettle bell workouts. Lifting right elbow above 90° almost always hurts, alot. Even w/ no weight. I did pick up a 3.2 oz plastic hairbrush today to comb hair with right arm and then noticed no pain (thin hair means very few tangles). Then tonight working on my MC trailer, used a hacksaw on a 1/2″ thick steel bar, noticed that a modicum of my former superhuman right arm strength was at my disposal.
My therapist Kristen did a great job (4 months, twice a week = 32 sessions) with what seems to be a life-changing injury. Watching the London Olympics is helping my attitude, many athletes have come back from worse. Give me another three months. Yes, I will be skiing, prolly with a yellow jacket. Maybe a spiked helmet with which to confront out of control snowboarders. As my friend Roy would say: 'It is what it is'. Yuk.
Update January 2013 – One Year+ after surgery. Shoulder is back to 'new normal'. Which is stronger than it was except in certain minimal lifting positions. Yes, it did take a full year. 100/365 = .27% improvement per day, about 8% per month. Don't expect to notice anything day to day. Later this year I will be back to competing in arm wrestling down at the bar. Yes I am skiing with no concerns.
Update June 27 2014 – 2.5 Years after surgery. Despite all the weight training work at the gym (every morning 9-11 AM), shoulder is not nearly as strong as I would like it to be. Maybe 40-60% of what it was before the accident. Plus, sometimes it seems to be getting much better, then overnight gets weaker and hurts so much that it feels like I am starting over.
One good thing: in late 2013, I hit a rock, lost a ski and fell down directly on my (good) left shoulder. It now has the same amount of pain and loss of strength as my right, so things have balanced out. Can throw a football maybe 20 yards if warmed up. Strong as a girl.
** Inferred: assumed, extrapolated, interpolated or just made up