I'm finally finished and here it is!!!
California Trip June 2014
Notes to Blog:
Some of this will be boring, it's more a diary with random opinions sprinkled in
I'm in Escondido for a full month, trying out a 'VacationRentals.com' condo
Escondido is 15 miles from the ocean = affordable
California is my second favorite state, always wanted to live here, so this is a test
The terrain here near the ocean is 100% mountains, sea level up to 2,000 ft. Condo is at 1,500 ft.
Trees and green stuff covers everything, huge boulders everywhere hidden under the vegetation
10 miles as the crow flies is often 20 miles driving
Most every morning is my routine: Panera for coffee, 24 Hour Fitness for exercise
There are seven Paneras and nine 24 Hrs within 20 miles, all of them have been visited at least once
The word blog is a truncation of the expression web log
Visiting California?: Be Prepared
To pay 25% more for anything you buy
To take 25% more showers unless you enjoy feeling sweaty
To use ALL your reflexes, blind spot skills and horsepower while driving
To recycle your trash – its the norm and maybe the law (wish there were a noisy leaf blower law – they are going day and night at the condo – it is on a golf course)
To see better looking women as you move toward the ocean
To encounter big mountains all over the state (also giant deserts)
Places you might have heard of, where I was in SoCal
Manhattan Beach, Pico Blvd, Slauson cutoff, Poway, West Covina, Chino, Azusa, Rancho Cucamonga, San Juan Capistrano, Del Mar Racetrack, Mission Beach, Camp Pendleton Marine Corps Base, Palm Desert, Borrego Springs, Palomar Observatory, Santa Monica, Solana Beach. San Diego, but not Chula Vista.
Jun 6, 7, 8 On the Way (1,200 miles to Escondido) (too tired to write anything after driving all day, these are notes to remind me)
How the Desert works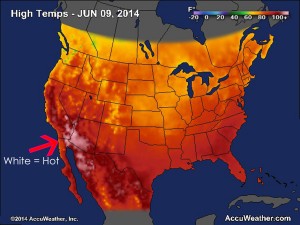 How the Freeways work
The Condo – 50's – 60's decor
Patton Museum – bathrooms long line – glad to be a male
Visited 24 Hr Indio (#1). Forgot to bring in towel – used sweaty t-shirt, nobody noticed or cared
107 deg as I left Palm Desert
Scrubbed Joshua Tree park from itinerary – too hot
A/C seat in Jeep works great
Man stopped me at gas station about the Jeep – he wants one, his wife came and looked inside
Overheard 10 yo girl saying to her mom in a booth: 'No more to be said on that subject'. Made me think she had just told her mom a detailed whopper, and was hoping to close it out with Mom forever.
Jun 09 Palm Desert to Condo
Palm Desert and Palm Springs have palm trees everywhere (duh), huge lawns with perfectly manicured green grass, golf courses and Oleander bushes 10 feet tall. Running out of water? Not yet.
Left at 9 AM, 91 degrees. Fun highways 371/79 from PD to Temecula
From 500 to 4,000 feet over the Sierras – scrawny brown desert vegetation turns into coastal green as soon as over top. 100 degrees in desert, then 50 miles west a cool 80. Let out an involuntary 'yahoo' when I saw the coastal mountains.
Stopped at 24 Hr in Temecula (#2) so I wouldn't arrive at Condo early. Finished work-out, then almost walked into Women's locker room AGAIN. Sent email to 24 hour asking them to paint women's entry walls pink, just so I won't get confused. Boy is that embarrassing to go all the way in as I once did in Ft Collins. Now that I think about it, no woman is going to run out after me, they are mostly undressed.
Spent $77 at Von's (grocery), more than I have ever spent at any grocery store
Condo is great, moved furniture around till I'm happy
Walked around the golf course – wow lot's of space and green grass benefits so few users
Jun 10 Escondido
To San Marcos Panera – from condo the back way on twisty 2 lane highway = racetrack speeds at going to work time of 7:00 AM
24 Hr San Marcos (#3) is old and small.
MC trailer wheels out of round! No wonder it vibrates the steering wheel. Got them balanced at Discount Tire, for free. I do recommend them and they are all over the U.S.
Jun 11 Oceanside/ Carlsbad
Checked out the back way (Centre City Parkway) to town in Jeep – OK for MC. No traffic and 50 mph.
Panera in town is small but friendly and just around corner from a 24 Hr Super Sport (#4) – this will no doubt become my morning routine for the next month.
Visited two more 24 Hrs Escondido (#5) and Vista (#6) AM – situps at all three.
MC to Carlsbad, discovered farmers market every Wednesday. Downtown State St closed off for vendors, found California cherries for sale finally.
On the way back, took the 78 to the 15. Big mistake, one hour to travel 5 miles – figured out where to get off early and shortcut home the back way. Streets wind around the mountains WAY more than the Springs.
Jun 12 MC to Julian
Motorcycling in Southern California… Was a little (no, a lot) anxious about riding on Calif highways in traffic, scouted out my routes to the countryside in my car. Turned out it was fine, did not feel dangerous, ended up on the 78, then the 15 by accident, just another freeway ride. The Triumph is a great MC! I am a better rider than I had remembered! Once on the bike, confidence returned and the fun began.
Julian ride was about 120 miles RT. The town was a big tourist stop, a two block historic Main Street, shops, restaurants, all from mining origins of early last century. Not crowded on a June Thursday, the Julian Cider Mill candy store lady says that in October, 20 people will be lined up in her store.
Museum was closed. Julian was a gold rush town in the 1800's. Now a tourist mecca on the weekends.
Jun 13 Godzilla and Car Show Escondido
Humidity 75%, no wonder I sweat at the gym in 10 mins instead of 30
Godzilla was a visually well done sci-fi movie – plus sound at the theater can't be duplicated at home.
Car show (mostly low riders) was less than impressive, I have seen better.
Jun 14 new MC and look at cheap condos in the area
Stopped in at a local Triumph dealer (saw the sign from the freeway) and found the exact bike I wanted. They agreed to all my terms so will be trading in my 3 month old bike for the almost same model. Why? ABS brakes, bigger (width) front tire, blue instead of black. Made a deal for $1,000 less than was first offered me. My Colorado neighbor Don agreed to get into my Springs house, find and send me Title.
Driving in SoCal is, to say the least, challenging. You will need all your skills, reflexes, mirrors and a powerful engine. Staying in the right freeway lane does not work at all like it does back in Colorado where things move at a more leisurely (and polite) pace.
Introduced myself to Steve, a condo neighbor who is restoring a '59 Ford pickup in the parking lot. He is ex-military, going to school on the G.I. bill and looking for a job. Condos I looked at not OK for me. The nice ones had gates, I couldn't get in.
Jun 15 GLT* day and writing this blog
Except I skipped the Tanning. My neighbor Don was able to get in my house and retrieve Title to the Triumph. He will mail it here to Steve.
My 2010 trip to Cali I wrote a blog, every day some kind of notes. It has been the most commented upon of my blog subjects. So maybe I'll do it again. Some days I'm too tired to write anything. Have to create my own incentive.
Laundry was a surprise. The condo owner said yes there was laundry, I presumed it was in the unit. Not since the late 70's have I used a 'laundromat'. No coins, but a special debit card, and a key to the laundry room which is downstairs and 100 feet away. The machines worked fine. I forgot the key, then the soap, then the card. So, four trips to get started. I like the front load washers, I think I'll get one when I get back, it's fun to watch the washer through the window.
Been to a Gym everyday in Cali so far except yesterday. Seven different 24 Hour Fitness clubs so far. There are 89 in Cali, I'll get to as many as I can. 24 Hour Fitness was a smart investment when I retired, it's $50 annual to renew = $4.xx per month and I go most days.
On the radio was an M.D., citing the latest study saying seven hours at the Gym per week is enough, presuming you are working out and not texting like a few I have noticed. Most of the Cali people are serious at the Gym.
*GTL = Gym, Tan, Laundry (from Jersey Shore) For me, it is Gym, Laundry, Take a Nap
Jun 16 Oceanside Carlsbad Encinitas
Received email from a friend with the diary of his trip to Central America. Was very exciting to read til he got bogged down in minutia. So that will help my incentive to start omitting the boring. It's 20 minutes to the beaches (they all run together from Orange County south of Camp Pendleton MC base to San Diego, about 30 miles) from the condo via the 78. Turn left on Ocean Blvd and drive the entire way within 2-3 blocks of the Pacific Ocean.
Water is blue, sky is light blue, sand is a buff color and temperature is 65. It's a Monday, traffic is light and you can find a parking place to stop and look at the beach parties and surfers. Drove back through the ritzy foothill community of Rancho Santa Fe – looked shorter on the map and took 30 minutes for 15 twisty miles. Huge mansions all over the sides of mountains, plus all the colorful plants and flowers everywhere. Looks pretty much like you would imagine Paradise to be.
Awakened from nap by screaming. It's two girls moving a huge mattress (California King?) into one of the condos. They dropped it and fell down several times, screaming and laughing. I snuck a photo.
Getting the bike ready to trade. They are going to remove all my upgrades and put them on new bike. Don says title in the mail today. New, blue bike maybe Wednesday?
Jun 17 MC to Palomar Observatory
100+ miles, the entire trip was between 75 and 85 degrees, just about perfect. Down in the 60's at the Observatory. Not much to see there, but a fun ride. Harrah's Rincon Casino in the middle of nowhere was huge and new looking.
Condo has only regular TV channels available – can't find anything interesting. Did find TV Guide app, which is great for seeing what is on, and you can eliminate all the channels you don't want to check. And that's how I found and first watched 'The Mindy Project'(on Fox) – made me laugh.
Jun 18 Motorcycle Store
General Comment: More and more of the things I brought seem to be strewn around the entire condo. These things have no real homes.
Jun 19 Temecula via Fallbrook and De Luz MC
Title delivered today, pick it up tomorrow. Very nice ride today, first through the orchards and tree farms along the San Luis Rey River. Then on De Luz road towards the west in the mountains where very few people live. Circled back to Temecula in Riverside County, where it was almost 90. Had a smoothie at Panera then flat slabbed it back to the condo.
Jun 20 New MC
Strange how one overlooks the obvious things. Picking up the certified mail tile at the P.O., lady comments: 'The weather here gets boring.' Just like the movie Groundhog Day. Every morning, eyes open to a clock that reads 6:23 and blue skies out the window. Temperature 65.
Took three hours to take off my upgrades and put them on new MC. Finally rode it home about 2:30.
Jun 21 MC Oceanside via the 76
Good highway to ride the new MC. Revs are limited for the 1,000 mile break-in period. Not too crowded, speed 55-65 OK.
Oceanside north end (just South of Camp Pendleton Marine Corps Base is very nice. Big marina where the San Luis Rey River creates a harbor – hundreds of boats and lots of very nice condos. Came back via Oceanside Blvd, etc. Need to go back that way.
New MC rides great, need a few more adjustments. Ken called, changed lunch Monday to his house.
Steph (my niece) called and she's at my house. A/C control needs a new battery, she and the kids will be doing without air conditioning.
Jun 22 MC Vista, then Oceanside and the Beaches
First early MC ride, temp 65 to Panera Vista, then to 24 Hr Oceanside. 130 miles on MC in two days.
Laundry day. This time I remembered everything (key, card, soap). Somebody else's finished wash was still in 3 of 4 machines. No basket around. What is the correct etiquette for removing others clothes?
Jun 23 San Diego then Mission Bay
35 miles south via the 15 to see Ken McGhee and wife. Nice lunch at their house, we spent 2 hours reminiscing about old times in the Navy. He was my first skipper and taught me how to become a responsible adult. Then 10 miles west to the ocean and Mission Beach, maybe the best historic beach in the US. The drive back was just turning into rush hour and what a racetrack! In Cali, evidently the word merge is unknown. Just bull your way in, it'll be fine. Sheets and bath towel washed today.
Jun 24
Spinning at the gym, very sweaty. Stayed home, nap then MC. To Ace Hardware in Carlsbad via San Marcos Av. Back to Oceanside then the 76 home. Called McGregor, left message.
June 25 Del Mar
San Diego County Fair – was more of a carnival with food and rides for kids. 40 minutes on a yellow school bus from remote parking to fair. Did get to see the DelMar racetrack. Otherwise, not worth the 4 hours. McGregor called, dinner tomorrow night in Manhattan Beach. Not looking forward to driving the LA freeways. My first ever Red Box movie rental – Blood Ties. Quit early, too depressing for me.
June 26 Los Angeles Metro
First to Bert's Megamall on Azusa* in Covina to look at motorcycles. Supposedly the biggest MC store I will ever see, advertized as the 'World's Largest Powersports Dealer'. Then to Manhattan Beach to meet McGregor at the Tin Roof Bistro on Sepulveda*. Left at 2:30, spent an hour at Bert's then to the restaurant, arriving at 6:40. So three hours driving to go 130 freeway miles. Traffic horrible. Back by 11 PM, only two hours, but night LA freeway driving is no fun. Dinner was great and restaurant was nice. Agreed to come back and spend the 4th with Bill, Tanis and their daughter.
LA traffic was one tie-up after another. Was on five separate freeways (10, 605, 60, 110 and 105) and each was just as bad. I did try my ACC (Adaptable Cruise Control) for the first time in traffic and it worked well. Set it for 70, then get behind any vehicle doing less than 70, it will automatically keep the distance set as that vehicle speeds up or slows down. Even will hit the brakes. Did have to set a closer distance than I had for the Interstates on the trip over, as people here will cut in front with what seems to be great frequency and usually no warning. Second lane in seems to be the safest, merging traffic (in LA) is horrendously frightening to an older gentleman like me.
At dinner, Bill McG and I caught up and indeed had a nice time – Tanis is out of town looking after her father. He advises leaving the beach club early on July 4 – to avoid the 'bedlam' as he puts it.
*Who doesn't like street names ending in the letter A?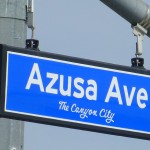 Jun 27 No Plans today!
No plans b/c I'm tired from driving to L.A. yesterday and getting back late. Panera, Gym, Von's, can't find a romantic comedy DVD at Red Box (did Blockbuster sell out to Red Box?). They are all action (violence), drama, vampire, inane comedy etc. Lots of Cameron Diaz and Nick Cage. Why is James Caan still being cast in anything? My friend Dave N. calls, 1 hour 23 minutes later we hang up. My Verizon bill is going to suffer. He fell off bicycle, hurt shoulder, similar to me, wants advice and opinion. Sent him link to my blog. (http://bgerman.com/wordpress/?p=603)
Jun 28 MC to Vista
A new plan for the AM. Take gym clothes on back of motorcycle to Panera in Vista, 15 miles away, then to 24 Hr also in Vista. Change and shower at the gym, then on to the beaches. 265 miles on new MC so far. Rented Lance Armstrong movie 'The Lie'. The new plan not so good, as it was 4 PM before back and lunch.
Jun 29 Oceanside
Another run out the 78, up to Oceanside and back via the 76. 310 miles, the Triumph motor is a third of the way broken in. Doing between 55 and 65 on the freeways, in the far right lane, despite the merging traffic nightmares.
Jun 30 Escondido south
Down south to Sears to buy a 8 MM allen wrench to add the handlebar risers. Stopped in Target and found proper pants for the July 4th beach club cover and tuck routine (long pants w shirt tucked). They have a strict dress code (looked it up). All I brought were shorts and jeans.
About the weather. The first two weeks, boring, the same every day. 63 degrees when you wake up, overcast burns off by 10, sunny and 79-81 all afternoon. Now at noon, sitting in the shade enjoying the breeze, I'm thinking: 'I could live with this'.
But also, later this evening is the first time I have been homesick. Probably b/c not busy enough w activities. Wondering how the neighborhood is, and all the neighbors we now have at home.
July 01 Julian MC
Trying to get 500 miles on MC to get serviced and oil changed before I leave. 110 miles today. Hot in Julian. In afternoon, loop to Oceanside and back way. Entirely too much traffic on 78 and 76 late afternoon rush hour, duh.
July 02 Temecula MC
To Panera, then 24 Hr in Temecula, for a change. Took old 395 instead of the 15. Chilly. Then on to Pala and Desert Center, hot, to get back. 540 miles on MC. Ready for scheduled Saturday service.
July 03 Hangin Around
I've been in this CA condo for almost a month w no premium TV channels. So, Red Box movies:
Blood Ties – quit after first hour, too depressing (It looked the most promising of all the choices)
Lie (Lance Armstrong documentary) – I liked it, any biking enthusiast should
Walk of Shame – Eliz Banks was a favorite, now she's even better. You will laugh out loud at least 20 times. Her girlfriends should have their own show. Stupid plot, good cast, lots of fun.
Veronica Mars – looks promising and I like Kristen Bell (first time) – turned out not so good, too many twists and turns with disappointingly boring ending.
Had to do laundry to find enough clothes (shirts) for tomorrow. No way I can wear the same shirt to walk a construction project and then go to the nicest club in Santa Monica. Full change required.
July 04 to L.A. for the 4th
Met McG at his project, One Santa Fe in downtown LA. Then to the Jonathan Beach Club for their Independence Day celebration – barbeque. At Santa Monica beach on a beautiful day, the McG family taught me how to play Mexican dominoes under a blue umbrella. Also, there was a fancy buffet, some walking on the beach and wading in the Pacific.
One Santa Fe is ginormous. If you walked the length of every hallway on every floor, you would have traveled more than a mile. 400+ apartment units, lots of first floor retail, fitness center, outdoor public spaces, etc. 700 people will live there when it is leased out, probably by early next year. It is difficult to comprehend how big this is from the photos.
Bill's new house project is also 'interesting' – the property is a 2:1 slope overlooking a valley. It is on the edge of the city, high up on the top of a mountain. Neighbors are rich, famous, or both. Call it a project because plans are finished, but no construction yet.
Left Santa Monica at 7:00 pm, home about 9:00, exhausted from the drive.
July 05 MC to service
$210.00 for the 500 mile service. Oil and filter, synced throttle bodies, adjusted throttle cable. Several hours waiting in the dealership.
July 06 MC Banner Grade
Despite the fire (big enough to make the national news), it was open and up and down, no autos to slow me down. Stopped to ask a parked policeman what the speed limit was (55 MPH everywhere on Cali highways unless noted otherwise) and he showed me the fire burn area. A few hundred acres, wiped out 100% of vegetation. The fire breaks were hand cut straight up the mountainsides, 4-5 feet wide. It was hot and sweaty the whole ride. Stopped in Julian for a break and to get candy for Val and Tripp. It melted on the 45 miles way back. Oh well, it's still candy.
Started getting ready to leave on the 8th. Checked the MC trailer tires, left one had zero pressure. Aired it up, but worried. (Empty trailer is light enough that a flat still looks fine. I had hit something on the highway, in Arizona, serious enough to bend the steel left fender, so maybe it damaged the tire, too?
July 07 Pack up day
Sure enough, tire was again deflated this AM. Towed empty trailer to Discount Tire in San Marcos. They ordered a new one, picked the trailer up mid afternoon. Loaded the bike after it cooled off about 6 PM. Mosquitoes for the first time in Cali! Maybe no breeze today? Packed the car, will be ready to leave for Big Bear Lake tomorrow AM. (Wow I'm so organized)
July 08 Big Bear Lake
Got off early, towing the MC, so 65 MPH is max. Big Bear Lake is not that attractive. It's down a few feet and greenish. The weather here is very pleasant at 6,500 feet, 75 degrees, blue skies and pretty clouds. The mountain road both up and down would have been great on a MC, not so much fun in an SUV towing a MC.
Rude slap as I arrived in Cajon Pass, just off the 15 near Victorville. Windy 20 mph+ and temps above 100. Welcome back to the desert. Went to Stater Brothers grocery in Phelan – rural people and rednecks, just like anywhere in America. I fit right in.
July 09 Sequoia Nat'l Forest
Exhausted after spending 8 hours in auto to drive 270 miles. Two hours to the town of Little Lake, east side of park, then 6 hours getting across park to west side. At least 10,000 S-turns. By FAR the longest, twistiest, steepest two lane road I've been on or heard of. Every mile as the crow flies equaled 2 miles on the road, and 30 mph was max, twenty around the sharp corners, of which there were hundreds. Thankful I was NOT on MC, no way I could have made it. Spectacular park, some say one of the top ten US parks.
At noon, it was 96 degrees and 2,700′ elevation entering the east side. There were four summits, the last at 9,200′, where it was a pleasant 70 degrees. Leaving the west park entrance, elevation was 800′ and 103 degrees. If you want to visit the Trail of 100 Giants, I would recommend entering from the west, the Giants are about an hour in. Nice paved trail and very few people on a weekday.
July 10 to Val's
Hike w Val up the hill and around his property in Glen Ellen near Sonoma. Sunset on roof. Too cold (really, too windy) to eat outside.
July 11 Gym & Sonoma Plaza
Val and Tripp took me to their gym in Sonoma. Then to lunch and people watch outdoor at the Swiss Hotel on the Plaza. Errands, Farmers Market. Several wineries. Afternoon petanque.
July 12 MC 150 miles Bodega Bay loop
Left at 10 am. 58 and cloudy/ fog on Hwy 1 along coast. Fabulous loop Stewart Point Road through the forest and up the mountain. 85 degrees hot at Lake Sonoma. Santa Rosa looks like nice place to stay. Val and I walked to bottom of Wolf Run and back. After dinner, first time to play Bananarama.
July 13 to Quincy
Left Glen Ellen late, arrived tired. Unloaded MC, then to McNeills for dinner. Talking til 10. No A/C in motel, slept on top of covers. By AM, in the 50's. The drill: leave windows open all night (and of course fan), then all windows closed early AM to keep in the cool air. Not quite as good as A/C, but does make you aware that it's livable once you know the secret.
July 14 Graeagle and Blairsden
Larry and Kathryn took me for a trip to the country, 25 miles east of Quincy on Hwy 70. Nifty bakery in Blairsden (population 32, why does it have a store of any kind, much less a bakery?). Graeagle had 10 shops in converted cabins along Main St, all identical red painted homes built for the lumber mill workers. Art and jewelry, mostly. L & K bought a wind chime. 100 degrees by noon. Nap, then relax w Larry, Kathryn sent me back to motel with leftovers to microwave.
July 15 Lassen N.P.
Larry and I drove the 90 miles to Lassen. Great park, cloudy so the heat was OK. 3 mile hike to volcanic steam and fumaroles. Exhausted when back about 5. Ate at McNeills. Loaded MC on the trailer, packed and ready to go by 9 PM.
July 16 to Ely, NV
Stopped for gas in Eureka, NV. Introduced myself to the Eureka County Sheriff (his 7th term, about 60 yrs old). He had seen my MC and immediately we struck up a one-sided conversation about his MC days in the '60s and his Triumph (which he customized into a chopper) and his subsequent other choppers. I have been on this highway (50) before, and it is scenic and no traffic. It crosses the center of Nevada and was named 'The Loneliest Road in America' by Life magazine in July 1986. The Park Vue Motel in Ely is the pits, should have stayed at La Quinta.
July 17 to Grand Junction
Scenic drive through Utah today (highway 50 then I-70). Glad to be back in CO. Excited to get home tomorrow. Can't get internet at BW. Sirius XM is my entertainment on long trips. Most of my presets are talk channels, either news or currant events. I've tried the books on tape, just too slow for me. A show that has been on for ages is called 'Opie and Anthony', and I listened quite often to their gross humor and salasious takes on celebrities and controversial news. During this trip, one of the hosts – Anthony Cumia – got fired. He was caught on tape, on his private time, not on the air making racist statements when a black woman accosted him in a NYC park. Now his partner Opie seems lost. The show continues, I'm sure its difficult without your partner of many years, but Opie and Jimmy need to see this as their opportunity to shine. Bring some new ideas, guests, topics, etc. And quit whining and lamenting. No fun to listen anymore.
July 18 Home
MC unload, wash trailer and straps, store trailer, move essentials in house, groceries, change batteries in A/C thermostat and Vizio remote, no nap, exhausted.
1st day: Car bugs off, then to wash, move everything out of car (except Sturgis gear), clean car interior, photos to desktop, pump backyard sump, put up cot and pad (from Steph's visit). Big nap.
2nd day: Wash MC, clean rear wheel w brake cleaner, change/wash basement sheets, copy email and maps to desktop, back up.
3rd day: MC install new and even higher handlebar riser, thermometer, adjust mirrors, ride to Woodland Park. About caught up.
Result of this trip: Probably I will do this again next year, except around Santa Rosa, just north of the bay area. MC riding is as good or better, the temperatures are reasonable inland and seems to be less traffic than down south. Beaches are much less accessible, smaller and rockier.