Hurricane Preparedness Planning Guide
One week before Hurricane is projected to hit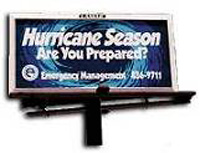 Begin by calmly thinking about what you will do. Write down your plan.
Make a list of supplies to have on hand (see below for a start)
5 days before
Fill freezer with water bottles (displace the air that will warm up fast)
Trim all trees within 50 feet of windows
Duct Tape all windows in 'X' pattern*
Figure out your garage door and how to open w/o electricity
Take photos of each room, print the photos and store them with your important papers in your bank vault, or in your bathroom cabinet
3 days before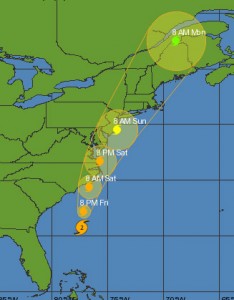 Bring all lawn furniture inside
Gas up the car
Get as much spare cash as you can – preferably enough to live on for two weeks
Finish up your shopping
Turn refrig to coldest setting
Put sleeping bag and extra clothes in the car, including work gloves, boots and duct tape**
12 hours before
Try to stay calm – avoid watching the weather on TV. Instead practice listening to the portable weather radio you bought at Radio Shack. Test your plug in phone – cell service will be down when you need it
Make a copy of your insurance policy, put it in a sealed baggie and carry it in your pocket or purse
Make a quick run back to the store for more batteries, water and duct tape. Fill up the gas tank, again.
When it hits (wind over 20 mph, or pets start to whimper) (oh yeah don't forget food and water for the pets)
Gather your important items into the bathroom (bring in a lawn chair if you have room, otherwise just sit where you normally would) (If you have a window in the bathroom, then instead clean out your biggest closet and put a comfy chair in there.) Fill up the tub with cold water!!!
 When electricity goes off (Turn off all lights except one. That way you'll know when the power is back on w/o blowing your breakers)
Turn off appliances and electronics to avoid spikes when it comes back on. You will need a flashlight to find switches and cords. Do NOT open refrig door until very hungry/thirsty. It will stay cold for days. When you do open it, grab everything you will need for the day (or night). Bingeing is OK during a hurricane, it will help you stay calm, and keep the refrig cold.
If you decide to evacuate, start early and take someone with you.
Supplies you should have
Water, Money, Gas as much of each as you can afford
High energy food such as M&M's and Snickers – as much as you want, you can use it for Halloween if it's not all gone by then
Canned goods – Spam should be a priority and plenty of Bouillon cubes to cover up the iodine taste. Figure on one week of food, two weeks of water.
Candles are useful and give off a reassuring glow and some warmth
Flashlights – one of each that use AAA, AA, and D batteries
Tons of batteries – they can be used as valuable barter with your neighbors
A big bucket to dip tub water and flush toilet
Iodine to disinfect the water in your bathtub before you drink it
Mops and large sponges and another bucket to keep them in
Dri-Fit shirts and shorts – two outfits are plenty and just rinse them in your bucket when warranted. Tank tops will give you the best look.
Maps marked with evacuation routes
Jumper cables
Disclaimer: The arthur accepts no liability for the accuracy of this planning guide, or for the consequences of any actions taken on the basis of the information provided.
* Some experts say taping your windows does no good. But really, it just feels right and sets a good example for the neighbors. Use the bright blue tape.
** Keep this in mind: You only need two tools: WD-40 and Duct Tape. If it doesn't move and it should, use WD-40. If it moves and it shouldn't, use the Duct Tape.