A Whirlwind Tour of the Western US
(I have edited this somewhat, but it's still mostly just my thoughts as I traveled) (Skip to the bottom for the new stuff)
You can see photos with a map HERE. And a Newsletter HERE.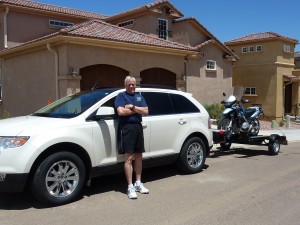 Day One: Drive to Cortez. Put new trailer tires on before I left, waiting outside tire store when it opened. Much more confident driving. One strap got loose after 50 miles, stopped for Velcro in Alamosa. Rained off and on the whole way, cleared up in Cortez. Took a 50 mile loop to McPhee reservoir, the second largest lake in CO. Nice ride. Getting the bike off the trailer was a little tricky. Used the City Market lot across the highway.
Mesa V Natl Park was backed up at entrance at 4PM, so I turned around and will try tomorrow early.
Day Two, at Mesa Verde Nat'l Park. I give Mesa Verde a grade of 'B'.About an hour to get from Cortez to Museum/ Visitor center. Main road is being reconstructed throughout, plus it's a 20 mile two lane windy mountain road. Not too much traffic, people or cars until after 11 AM. Perfect weather. The Indians that lived in these cliff dwellings must have been in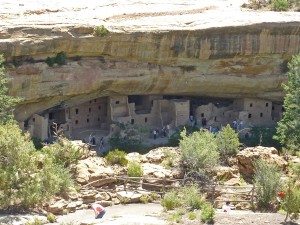 good condition, since the only way to get home is via 100'+ ladders.
All their food and firewood had to come the same way, there is literally no extra space except for living. And they kept having babies and lots o' Indians lived in very small areas b/c no room to expand.
Rode to Four Corners this aft late, it was closed for repairs. Lot's o people stopped at the gate anyway and so I hung around and talked to everybody (This is out in the middle of nowhere, in the desert, at least 85 degrees, no shade. Took photos of big family from Scotland, they were on the way to California and Yellowstone just like me. Another MC couple were there from Indiana, had just come from California on the way home. On a Goldwing. They followed me to Cortez.
The highway to 4C is through Indian reservation land (Navaho) and it is beautiful but hot, dry and not much grows there. Of course, white people live out here too, but their teepees are air conditioned. Four Corners Monument gets a 'C'. I could see the monument from the highway and it wasn't too exciting. It's desolate.
Day Three, to Page. In auto from Cortez to Page AZ. So windy that when I stopped to pee, had to make sure I parked with my door on downwind side. No way to open door against the wind. Got to Page early – I forgot AZ doesn't observe daylight time. Unloaded MC for tomorrow (too windy for me today), then went exploring in auto.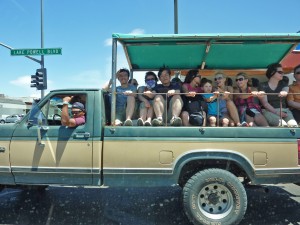 5 minutes out of town is a big lake that I can see from a distance. Turns out it's Glen Canyon Lake and the GC dam is right there. With fancy visitor center and lot's of people. I am now noticing how many foreigners are in this part of the US on vacation. They're fun to talk to. They seem to dress even rattier than Americans. I'll try to get a photo. Glen Canyon Dam gets a 'B+'.
Sitting in the palatial Rodeway Inn in Page, the wind is blowing hard enough to make whistling noises at the door (gusts to 65 the internet weather says). This is at 6:30 (7:30) in other MDT states. Weather for tomorrow says very little wind, Yay! So I have packed my MC case for a ride to Zion NP tomorrow. Figured out I can get everything in one case: hiking shoes, fresh underwear and socks, and a clean shirt. Water and chain lube.
I'll be up and, with no wind, be off early, assuming it's not too cold.
Page is a 'new' city, founded in '57, the sign says. It is very lively for a small town, lot's of traffic, boat yards, tour buses and tour pick-up trucks with open seating for 16 or more in the back (see photo).
Day Four, MC to Zion. Off to Zion (actually the town of Springdale, next to Zion) about 6:30 this AM. As I was loading up, a nice man said something about the highway to Z being closed. Then his wife brought me the details on a park service handout. The east entry is closed for const everyday 9 to 5. The alternate route looked circuitous; suddenly I had a deadline and barely time to make it. The nice couple both said 'you can make it'. What was overlooked was the stupid AZ time zone not matching up.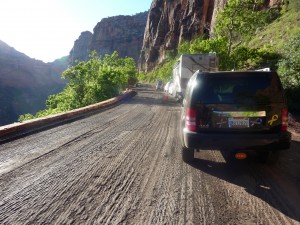 I wheeled up to the park entrance at least 15 minutes before 9, and the ranger lady said 'we've been closed for 45 minutes. It's 9:45 here'. So back track for 30 miles to Kanab and then 100 miles through the boring, getting hotter desert. Finally arrived at motel about 1:00. Too early to check in. I'm tired, 230 miles on bike, hot, dusty, etc. So I go to park. Gate lady says the lots are full, but we get friendly and she says, well go look maybe you'll find a spot. And I did.
My riding clothes were not good for hiking, so I stripped down in the parking lot and changed to shorts and hiking shoes. Zion National Park gets a 'B' overall. An 'A' for ease of use, as shuttles are required and they are frequent and efficient (and hot). Also an 'A' for hiking, the trails are superb, graded and described to keep you out of trouble, interesting, varied, etc. An 'A' for scenery, the giant sandstone canyon walls are incredible. But downgraded to a 'B' b/c just so crowded. Also, the road construction cost me almost two hours.
I will be coming back here to hike. Possibly bring my camper, the park campsites look very nice, mostly shaded and there are at least two nearby upscale private RV parks that look superior.
I was able to see the entire park in 3+ hours, including a 2.5 mile hike (walk) and checking out the Zion Lodge (hotel room $160). Stay here and you are in the middle of the park, you get a pass to enter and park at the hotel.
Lots of foreigners here, also. I notice that their 'personal space' is much less than Americans. On the hiking trails, when they pass you, ¼" is enough space. Check it for yourself when you are next on a sidewalk, see if 12" isn't the American standard.
Day Five, MC back to Page. Instead of doing what I planned, I got up early and got out of the park (Zion) through a 10 mile construction zone that took an hour. Stopped in Mount Carmel to get coffee, just after being photoed by a passing MC, a silver Suzuki  V-Strom (no one has ever passed me while holding up a camera pointed at me, on a motorcycle doing 80 mph). He kept going when I stopped. Instead of going directly back to page, decided to visit a place called Marble Canyon which had the Navajo Bridge, looked interesting and was maybe 40 miles extra.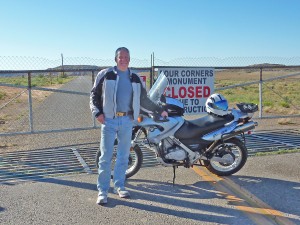 Then at Jacob Lake, I see a sign that says North Rim, Grand Canyon 40 miles. It was still 9 or 10 AM, so I took the road. Stopped at a park visitor center, get some advice about going on to the lodge and two other roads that would add another 50-60 miles. As I'm pulling out, I see 4 Beemers screaming off that way, so I catch up and follow them all the way to the lodge. We end up getting chummy, they're all from Utah Salt Lake and Ogden, and we put another 100 miles on. At the lodge when I leave, a silver V-Strom is parked next to me (2 bikes in one spot). I wonder if that's the same guy. Also a couple walks up, wants advice about touring MC's. I spend twenty minutes showing them my BMW, the bigger BMW's of the Utah group, and the V-Strom. The Utah guys come out and I ask if I can ride with them.
The best MCing yet, all in the Grand Canyon Natl Park, on curvy mountain roads that must have been layed out by a motorcyclist. 2-3 hours of pure fun, plus we stopped at all the overlooks and took photos. They were all really nice guys and good riders, fast but safe. Probably 50 curves each way, speed limits 15 to 35 mph, and we never were slower than 40, up to 70 mph on the straights.
We split up at Jacob Lake, they back to Panguitch, Utah where they were camped, and me back to Page via Marble Canyon. I got back about 5, exhausted with 305 miles ridden since 7 AM. Check in the motel and notice a silver V-Strom parked directly across the street at another motel. Get cleaned and the bike cleaned up, hook up the trailer and get the bike ready to load. A guy walks up, says, "Would you like some help?' Hell, yes. It's a 450 pound bike, difficult even for me to push up a ramp while balancing it.
OK, it turns out he's the V-Strom rider! When he saw me loading my bike, he wondered if it might be the one he had taken a photo of this AM. Spooky. He helps me get it strapped on and we talk for the next hour. He's from Tennessee, going to a rally in Taos and just spending time riding until the rally starts Monday. Just a real solid nice guy, owns several bikes and has been all over.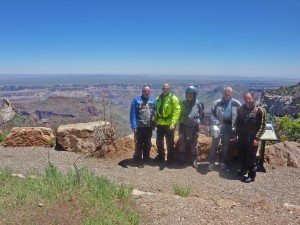 I'm way too tired to be writing this. Grand Canyon North Rim gets an 'A'. Not crowded at all, great views and perfect roads for motorcycles. Marble Canyon and the Navajo Bridge get a 'C-'. Don't bother. There were signs for 'Cliff Dwellers' on highway 89A which I figured was a tourist trap. Turns out it's a small town and has people living partially under huge sandstone rocks that have fallen off the cliff face above. Yes, the giant rocks are their roofs and they are within 100 yards of the highway and I skidded to a stop and went back and took photos. There was a pickup in front of one, an old lady (Indian?) sitting in the shade of her giant rock/ house, one had stone walls on one side and a chimney. Bizzarre.
Day Six, drive auto to Bullhead City, AZ. Changed plans to skip GC South Rim and the Skywalk, and go directly to Bullhead City. Which gives me an extra day to use in California b/f I have to be at Val's (near Sonoma) Thursday aft.
Arrived in BC, elevation 400' and temperature 94 degrees, wind blowing steady 30 mph. Unloaded MC and immediately went to room to rest until it cools down. Then off to Lake Mojave marina, which I haven't seen for 15 years, then to Harrah's to clean them out at the dice table.
Which I did, investing $40 and taking home exactly $100, in about 20 minutes. Gamblers are losers, and I can no longer stand to be around that many losers for more than a few minutes, it's depressing. The gambler's at Harrah's don't have much money to begin with. It was fun to see all the places I used to come 15 years ago. Laughlin and Harrahs have not changed much at all. They even have a smoking casino.
You would think in the heat, it would feel good to get some wind blowing on you. Blast furnace is the description that comes to mind on the motorcycle at any speed. It's HOT here, so far haven't seen less than 80 degrees – at night of course. Got over 100 in mid afternoon.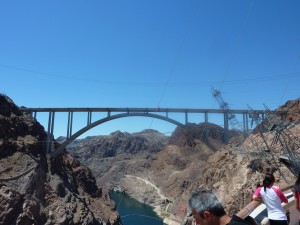 Day Seven, at Bullhead City. I had planned several trips on the bike, but too hot por moi. Got in the car and went to Hoover Dam early (get there by 10 AM or you'll wait in a traffic jam for miles and hours.) There's a security stop plus it's the highway between Vegas and Kingman plus there are lots of tourists wanting to see the Dam.
Hoover Dam gets an 'A++'. I hadn't been there except passing through 20 years ago. Figure an hour at the visitor center and you must read every display. It was built during the depression and the highest wage I saw was $.70 per hour for a safety checker who said OK to go back in after the dynamiting. The dam, from what I learned was built for two main reasons: control gigantic Colorado River floods, and because California needed and would pay for the power. So California paid for the Dam. The Dam appeared to be just as politically controversial in its day (30's) as the stimulus package was/is in 08 -10. It put tons of people to work for years, but the main beneficiary when complete was California – both power and water.
Back to Bullhead and get ready to drive 500+ miles tomorrow. The extra day I have decided to spend making a loop of Hwy 1 and Hwy 101 in California. About 300 miles total. So I changed plans and will stay in Salinas (near Monterrey) tomorrow and take the motorcycle from there south on Tuesday AM. Watching news tonight, 105 degrees predicted for Tuesday. Can't wait to get out of here, heading north.
Day Eight, drive to Salinas, California.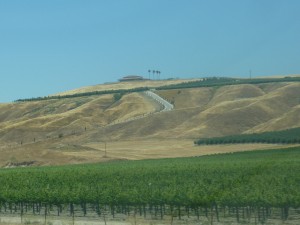 I may be too tired to write about this day, 515 miles driven, towing my MC. Well I am so happy to be in California again! No wonder so many people want to live here; it is beautiful. Was up to 85 in the desert this AM, then get cooler as I went north. Here in Salinas its in the low 50s, Brrrr. Supposed to be 60 degrees by 9 AM, so I'll be off to Monterey for a coffee stop and then motorcycle south on Hwy 1. I'll stay in Paso Robles Tues night, then back up 1 again Weds AM. Hope to stop at every scenic outlook plus Hearst Castle and Big Sur.
It is humid here, sticky, icky, I'm finally going to have to wash some clothes.
Day Nine, motorcycle to Paso Robles, CA
160 miles and I'm tired. It was in the low 60's all the way south on Hwy 1 and therefore less fun than I expected. It's been either too hot or too cold. Now that I'm 30 miles inland in Paso Robles it's almost 90 again.
Hwy 1 is a great ride, just as advertised. Plenty of scenery, the bright blue Pacific on your right side and dark green mountains on the left. (And yellow and purple flowers next to the road) It's two lanes and paved, but not scary at all and with so many vista pull outs you can't possibly do them all. Weekday traffic was not bad and most autos give up and pull over to get passed by a crazy motorcyclist on their bumper. I stopped at Big Sur state park and it was pretty, but I didn't get the 'big deal' so I should have read up on it first (what is a 'Sur', anyway?). There were 7even miles of excellent curves starting about 21 miles north of the Hearst Castle until 15 miles north.
For the beauty, the ocean, the curves and the length (100 miles±), Hwy 1 deserves an 'A'. Big Sur is undecided.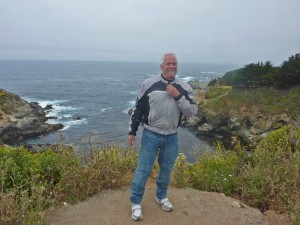 Leaving Salinas this AM I stopped in Monterey, an oceanfront city, and then Carmel, which I believe is home to Pebble Beach golf course. Monterey was a typical beach tourist trap, several blocks of storefront shops, cafes. The area called Cannery Row has parking meters everywhere, all day lots for $20, etc. Didn't like it but it did have a nice marina so I looked at boats for awhile.
Pebble Beach must be a gated community with several golf courses, I didn't bother going b/c the bikers I met in Monterey (they were from Ontario and looking for a Harley dealer to fix a bad clutch, and they ended up here b/c there GPS took them to a Harley clothing store vs. a dealer) said no motorcycles allowed on the tour, and that's the only way to get in. Took a street down to the ocean through what turned out to be 'downtown' Carmel. Full of shops and B&B's. It looked much more attractive for my taste than Cannery Row in Monterey.
Monterey Cannery Row gets a 'C'; Carmel downtown gets a 'B+'. Both have Pacific Ocean beaches right there, so you can't go wrong.
Forgot to mention the Hearst Castle, which I should go see tomorrow, but. It's a minimum 1.5 hours, plus time waiting for the tour to start. I did go into the visitor center and spent over an hour looking at the exhibits, which are fascinating. Hearst was so wealthy and a collector of art and creator of many business and a movie mogul. His 'castle' is simply amazing, he worked with a woman architect, and the process of building the complex lasted his life and her career. They just kept adding and tearing down and starting over. I took one photo from 5-6 miles away, but you can get an idea from it. The Hearst Castle gets an 'A+'. It's owned and run by the state.
Day Ten, motorcycle back to Salinas
Highway 1 with blue on the left this time. 155 miles, it was sunny and 60 in Paso Robles when I left, then from the pass over the coastal mountains it was all fog on the coast. Then it got colder and started to drizzle. Had to put on all the clothes I had (used the restroom at Hearst Castle to change). The rest of the 100 miles was in the 60's and no sun all day. And windy. So I'm glad yesterday was so pretty.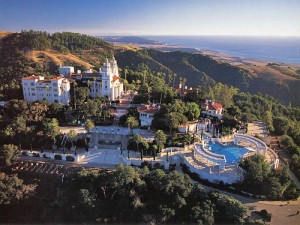 I stopped briefly to watch the elephant seals on the beach. They look like giant laundry bags with flippers and mini-heads. All blubber. I give the elephant seals a 'D'. Boring.
On the way back stopped in Carmel and walked around and it is an upscale city center with expensive galleries, shops and cafes. I liked it as a place to hang out. Loaded the bike up and I'm ready to leave for Sonoma tomorrow AM. Meeting Val for lunch.
Day Eleven, drive to Sonoma (actually Glen Ellen)
To see my friend Val. Then some other college friends from 45 years ago are coming Saturday and we'll spend a couple of days hanging out. The classmates who were invited but did not come will prolly be sorry when they hear about the wineries we visited and the fun we had at Val's beautiful house on 23 acres, close to Sonoma, but secluded and beautiful. Val's house gets an 'A'.
The drive was uneventful, the traffic not bad on the east side of the bay. Met Val in downtown Sonoma, which was a fabulous square with a City Hall in the center and shops and restaurants on four sides. At Val's by 4:00, went for wine tastings at three wineries, to the local food store and then back for a walk around the property. Fish for dinner, then to bed, I was tired. Downtown Sonoma gets a 'B+'.
Day Twelve, MC to Stonyford, CA
Actually my friend Bill and his beautiful wife Tanis have a house not in Stonyford, but about 5 miles north. The ride was half of a loop I'll finish tomorrow. Started the day southeast to Napa, then to the east on some winding two lane backroads and finally north. 155 miles. Wasn't too tired when I got there, but it felt good to sit down for a few minutes. Then off to see Bill's ranch in his Polaris 4-wheeler. We went to a beautiful lake on the neighbor's property and canoed for an hour or so, checked out some bulls and then drove up to the top of Bill's 'mountain', probably 200' above his house. Bill M's house, gets an 'A+'.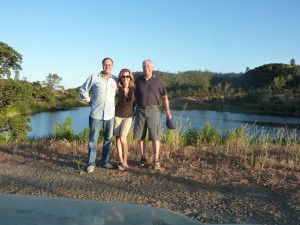 Tanis was interested in the exciting single life I lead and was starting to give me her advice on finding younger women. Bill, you can let her know I am shopping for the Ferrari she recommended. Somehow I had gotten the mistaken impression that Tanis was a 'speak when spoken to' person.
Day Thirteen, MC back to Sonoma
180 miles, all back roads, around Clearlake, it was a beautiful day. Hot in the low nineties but most of my ride was shaded by trees or cooled by the lake or the mountain altitudes. Excellent day overall for riding. Back at Val's by 2:30, where I did laundry and cleaned up by myself, the others were in Sonoma eating. Enjoyed seeing Steve and his wife Palma for the first time in five years. Had lots of wine, learned how to play Petanque (a cousin game of Bocce and horseshoes) and watched Val and Tripp prepare an outstanding sit-down dinner for us. I crashed on the couch. Petanque gets an 'A'. (And I apologize for being a poor sport and making fun of the substandard skills of everyone I beat.)
Day Fourteen, at Val's in Sonoma
Just hung around, started early playing Petanque on Val's courtyard. Pretty much whipped all comers. Bill M jogged and Tanis and I hiked down to the Warm Springs Road intersection. Went swimming in the afternoon. It was a laid back day, we did visit a winery and the Glen Ellen supermarket for sandwiches. There, we saw a unique bookmobile. Bill M had pressing business elsewhere (ever heard that before?), so he and Tanis took off from the winery. Steve and Palma stayed around for a chat until late afternoon, Steve had work on Monday. Tripp (today was Tripp's b'day, he turned 35 I think) left to catch his plane, so Val and I listened to music, worked two crosswords and watched the stars and satellites until bedtime. Tonight, I had a real bed and actually slept.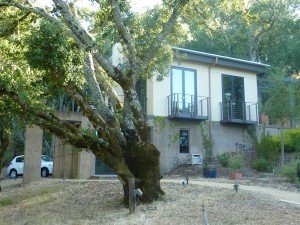 Val's house gets upgraded to an 'A+'. You just might suspect that politics play a part in the ratings.
New subject. These are the two best California motorcycle rides (you will need a map): 1. from Napa east on Monticello Rd, to Capell Valley Rd, then Hwy 128 to 505. 33 miles of fun. 2. From west end of Clearlake, Hwy 175 south to Middletown, then Butts Canyon Rd to Pope Valley Rd to Lower Chiles Valley Rd to Sage Canyon Rd around Lake Hennessey (75 miles, scenic and much of it shaded- lots of curves).
Day Fifteen, drive to Elko, NV
Long day, 500 miles. Stopped in Sacramento to look at a BMW. It was perfect, but $12,500 and 1000 miles from home, so add another $600 to have it shipped. Not much happening in Elko and can't wait to get to Yellowstone where it's cool. Was up to 102 in the Nevada desert yesterday.
Day Sixteen, drive to Idaho Springs, ID
Only 350 miles today. The sumptuous Best Western motel here is right on the Snake River in downtown. It's beautiful weather and lot's of people are out walking, fishing, biking and skateboarding along the park next to the river. There's a big waterfall several hundred feet long and I can hear a band playing somewhere. It's Tuesday afternoon, so that's unusual. There are big clouds to the west, but it's blue skies and 80 degrees here. Decided to go for a walk.
Turns out its about 5 miles around the river (across two bridges) so I took off. Lot's of other walkers. Clouds getting darker, closer and some lightning. Thought I could make it. Got to the other side opposite the motel and there was the concert and it was good. Hundreds of people on the grass and in their lawn chairs. I stopped for a bit but decided I'd better move on, b/c now it looked like rain for sure. Well, it started to pour down and didn't quit for the next two miles back to the motel. Completely soaked, but I did keep my camera dry somehow.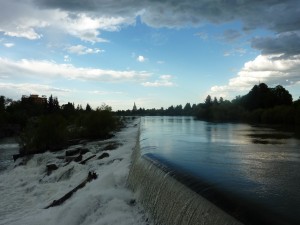 Once I accepted getting wet and stopped worrying about the lightning, I had a great fun time, laughing and singing and saying hello to the other people stuck outside like me. I like Idaho Springs. Seems like a great city. Idaho Springs gets a 'B+'. (Partly b/c it was unexpected to be so nice)
Day Seventeen, drive to Canyon Lodge in Yellowstone Nat'l Park
Revised my plans and decided to drive to cabin and motorcycle from there. Because if I get stuck in Yellowstone traffic, I'll be in car instead of exposed on a motorcycle where a bison could tump me over and then a black bear claw me and then a ferocious pack of Yellowstone wolves finish me off. Plus the rain storm yesterday made me realize I'd feel better about things not being out for three days without the car and only a motorcycle. Plus, I can see what the temperature is before I decide to ride. Supposed to get in the thirties at night.
Plus, I checked the Yellowstone web and the west entrance that I had planned to take is under 'major' construction and I'd been through construction at Mesa Verde and Zion, both times on my MC, very unpleasant. Waiting, driving slow, eating gravel and dust.
A side comment. There is road construction, or bridge reconstruction EVERYWHERE I've been, seems like every 200 miles. And within every park. It's the Stimulus summer from hell for travelers. The park newsletters say Teton and Yellowstone received $42 million from the ARRA.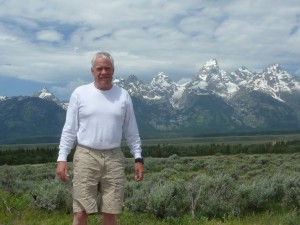 Yellowstone Nat'l Park gets an 'A'. The Grand Tetons get a 'B'.
Now that I'm here in my cabin (very nice with a shower even) it's a good thing I did not ride my MC.  No traffic jams, but a lot of 20 and 30 mph spots for miles w no passing. Only 200 miles from Idaho Springs, took six hours. Went through Jackson about 11 AM and it was packed with tourists on the sidewalks. Can't wait to get back there tomorrow.
Grand Teton Natl Park and Yellowstone are both places everyone should see. Yellowstone contains more geysers and hot springs than the rest of the world combined. In August a new Old Faithful visitor education center will open. Beauty is everywhere plus you will see bison and springbok and maybe other creatures. Of course many humans also. Took MC back to see bison, and one was at the curb of parking lot eating grass. He might have given me the evil eye.
Loaded the MC on trailer tonight instead of tomorrow. Good thing; it rained lots and would be mud in the AM.
Day Eighteen, drive to Jackson, WY
Back through Yellowstone and Grand Tetons Parks. Saw a bison up close and got a video from inside the car. Saw a moose resting and got a good photo. People were jammed up every time any animal, even a deer showed up. Figure 30 mph average through both parks and they are huge. An hour and a half to get to Old Faithful this AM from my cabin, probably 45 miles. Got there just as it started. Watch the video (who doesn't like a woman screaming 'it's erupting!' at the top of her lungs?).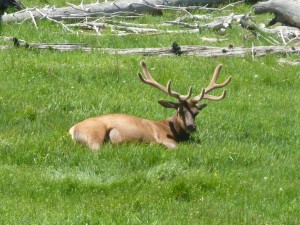 Old Faithful gets an 'A'.
Back in Jackson I went down to the town square, the one with an antler arch. Too many people and too many shops, I got bored. Went for a short MC ride, but too much traffic at 6 PM on the way to Teton Village, so I turned around. Jackson gets a 'B'. It does have an airport and a ski area, and a motorcycle and camper rental place.
Day Nineteen, drive home to Colorado Springs
600+ miles, I got get-home-itis and decided to get up early and go all the way home. Turned out to be tiring, but not too bad, and the Denver traffic gave me a break. Prolly everyone had left for the July 4th holiday when I went through about 4 PM. Stopped in Wyoming at a do-it-yourself car wash (since the road work south of Jackson was mud city) and the wind was so strong funneling through the wash bay it blew me backwards on the soapy floor. Yes, my feet were sliding, but I could use the water pressure from the wand to slow me down – tricky. 10 in the morning it was 90 degrees. Adios, Wyoming and none too soon. Wyoming gets a 'C-'.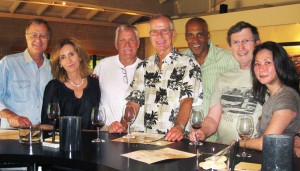 I drive into the 'neighborhood' and find that I have four new neighbors (the only neighbors ever here). Two nice couples in two houses at the end of my street. Big surprise, somehow they showed up and signed contracts and moved in during the three weeks I was gone. What a shock after three years to myself. It is now obvious that I will have to change my clothes a little more often, what with people observing me daily.
Now all I have to do is catch up: finish this blog, organize my photos, reply to email, get back to the gym, buy a motorcycle (yes, it's OK to have more than one as a very wise man once commented, and I need a certain kind for Sturgis with loud pipes and a super fat back tire), download a bunch of new music I heard while on the trip and get all the rest of my trips planned, including one to NZ next Feb, find a girlfriend, change the oil in both vehicles and get my camper ready for the next adventure to Taylor Park Reservoir near Gunnison.
Miscellaneous Good Info: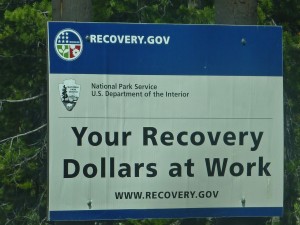 I saw mostly fat, bloated tourists everywhere on this trip, I'm certain they were natives of the fast food nation we have become. How long has it been since you've seen a Boraxo soap dispenser? Visit the Exxon station on Bus 80 in Laramie Wyoming, push a lever and you get a little mound of white powder that's a superb cleaner for dirty hands – takes your skin right off along with the dirt. California used to be part of Mexico. Everything is Spanish names. Bet you Mexico is sorry they lost that war. Strawberry plants – how they work is amazing, you pick the good ones off today, then tomorrow they'll have another one or two ready to pick. Each plant keeps putting out new strawberries, daily all season. Grape trees are actually vines trained to look like a tree from the side – they are actually two dimensional. And each tree has its own water. Eastern Idaho is the greenest land I've ever driven through. I mean green rolling hills everywhere and lots 'o watering them taters (I presume that's what is so green in Idaho, and maybe that's also what makes Ireland green, tater plants). The horse flies in the Texas panhandle can make you run for shelter. I still have a welt or two on my legs from a month ago. And its hot there – sweltering is the term.
What I learned on the Radio
You learn lots about investing from listening non-stop to the business channels on Sirius, and FYI, you should be very cautious with the market until after the November elections. Here are some random terms that were repeated many times, every day of my trip: could this be a 'double-dip' recession; this is the 'New Normal'; this is a 'Survival Summer'. Of 32 market periods with a 14% dip (like this one), all but seven have then been followed by an extended bear period. Look for dividend stocks, they'll be the safest way to get any return at all.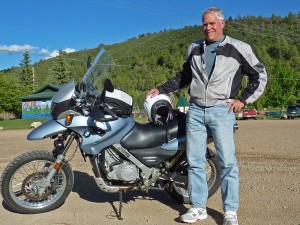 Why I Ride a Motorcycle
Fast and Dangerous (but not really the way I ride)
2.5 dimensions:  forward, sideways and leaning (not as good as flying, but close enough)
Focus on driving obliterates other thinking
Freedom (whatever that means – doing something mom wouldn't approve of?)
Common interest w other bikers that promotes instant friendship
Trip Summary: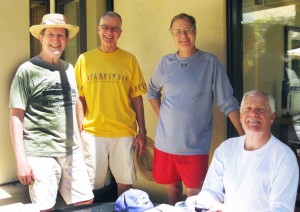 3,600 miles in auto (Ford Edge 20 MPG)
900+ mile on BMW (no breakdowns, 65 mpg)
14 motel rooms (Best Western is most dependable quality for price)
Eight states visited (ranked in order of desirability):
Best Parks or Scenic Areas:
Grand Canyon North Rim
Zion NP
Hearst Castle, CA
Sonoma/ Napa valleys
Yellowstone NP
Glen Canyon Dam
Mesa Verde NP