The Brookside Ant-thropology
The Brookside Ant-thropology
A short story about a month long stay at a small rental in the Sonoma Valley in California. Several days after I arrived, I noticed evidence of ants on the kitchen floor. Turned out they were carpenter ants which leave a mess wherever they are present. That discovery and other shortcomings led to a 'turning point' in my opinion of the otherwise attractive and well located studio apartment. This 'review' describes my frustrations in detail. The owners were very nice about the situation, and having been offered a refund, I agreed to delay publishing a negative review on their site. They in turn, agreed to remedy the shortcomings and send me the proof. I suspect that if you should want to rent this studio, you will now find it to be completely bug-free and in lovely condition…. Let me know.
Names and location have been camouflaged. There are several similar rentals in the Sonoma Valley area.
Review of 1234 Brookside Road
Start by saying Bonnie and Jim are wonderful people and try to conduct themselves as good hosts. It's just what they have to work with…..
What is good about the 'Studio'? Lots. Convenient neighborhood, close to Safeway, CVS, gas station, etc. Homes on this street are older, but nice and well kept. The Studio front door opens on to a pleasant patio, with an attractively landscaped back yard and many mature trees. Mostly, it's quiet. The unit is small, but nicely furnished, plenty of windows and an adequate kitchen and bath with separate vanity. Bed (queen) is wonderful. Flat screen TV with DirecTV, HBO and ShowTime, plus a DVD player and several DVDs. A few novels. Kitchen has most utensils and cooking gear (but no oven).
Now, for the not so good…
The Studio is a converted two car garage, two sides of the main house wrap it with the shared patio between. Being 20′ from the landlord's double glass doors does not feel like privacy. Adding to this concern are the mini blinds, with a full inch of uncovered glass when closed, allowing a full (albeit very skinny) view into the unit from the house. The first few days I got random visits from the owners, who knocked and then gave a reason to come in (i.e. looking for the local info book). I do understand they want to see what my situation is in their unit, but for me, I have been used to privacy, as in a hotel, with housekeeping in the AM.
The patio is shared, and I had the uncomfortable experience of strangers walking around on the patio just in front of the glass entry doors of my place on two days while the Landlord was gone and their house sitter evidently had guests. They were peering. OMG creepy.
The heater is a wall unit and works well to keep the place comfortable in April. It is also the single noisiest heater you will ever experience. I did get used to it coming on. Ka-whoosh! Settles in to a nice roaring campfire sound. Then, for 10-15 minutes after cutting off, clanks and squeaks from the metal contracting as it cools. Eerie for a while, now I'm expecting it. With a window open, the unit gets a little air flowing, the ceiling fan works well with no noise at all. Late in the afternoon, traffic noise from two local streets comes in, despite the dense trees. Quite loud for a few hours, you will need to close the windows.
Internet is as slow as molasses and there is evidently no ready answer – I discussed this with Jim, who sounds knowledgeable. Forget about streaming video. My solution was to go to local coffee shop to satisfy my need for speed.
DVD player did not work, Jim responded and had me a new one by the next day. Could this have been checked in advance?
Jim warned me about the old wiring and the probability of losing power, etc. In short order I did figure out how to pop the breaker. Accidentally hit the range vent fan switch when I intended the light. Evidently, when the fridge is on, the vent fan pulls too much extra juice. Darkness, but was able to grope for a flashlight and find my phone. Jim was home and awake and had lights back on within 5 minutes. Electrician was out a day later, changing the breaker.
As I mentioned, kitchen is fine and I was able to survive without pizza for a full month (remember, no oven). The upper cabinets have enough dishes and supplies for a family of four. No pantry or empty space for food, so plan on using 50% of your counter space for food. (it IS easier to find your food when it is all in plain sight) Similar space problem in mini-fridge with things I don't need already in there.
The info says my sheets will be changed weekly. Did not happen. Isn't weekly a standard for all B&B's?
Ants. What would the world be without them? They are friendly pets, not much attention or grooming required. Yes, we had 'em. Coming in from outside, behind the fridge, evidently. Jim of course did what he could, but shouldn't the place have been checked before a guest arrived? Two days of ant junk on the kitchen/ vanity floor, then a third day when the ants staged a resurgence. Who wants to live in a place that needs pesticides daily? That one cute ant crawling up my bare arm while I was watching TV while sitting on the couch is what generated these comments. (plus the creepy visitors outside my door)
Normally a pleasant person, expecting only a reasonable level of service, and a clean, well maintained but not at all fancy establishment, I think it was the ant situation that made me ask myself, is this a place where I would send a friend, or even an acquaintance? My duty suddenly became to help you make the right decision for your visit to California. Aren't we all glad there is a place to critique vacation places?
To be fair, I am showing this 'review' to Jim and asking him to fix things that are possible to fix, send me the photos or work orders, so that I can revise my rating upward. Good location and too many positives. Or, I suppose, he could charge less and (as they do in the Bahamas) put a large can of Raid on the coffee table next to the industrial grade fly swatter.
Pretty sure I will be the object of some venting by the very nice owners, give them a year, they'll be glad I took the Time. Right? P.S. Last summer I stayed north of San Diego for a month, similar but in an older condo project on a golf course. Everything in that unit was wonderful, plus they had a laundry room. This comparison is based on that experience. Rent here is quite a bit more – it is wine country, so worth paying more!
Rating Summary: (5 stars max):
As experienced in 2015: 1.5 stars (0 stars when ants present)
Potential rating when all concerns above are addressed: 4 stars
Selected Responses from Owner
April 13 (I had been there two weeks)

Hi Bill:
Sorry about the ant problem. Here's an update.
Our local Ace Hardware store said this is the worst season for ants they've seen in years, and they're getting a lot of calls about this.
We also called 5 pest control companies, and the first 4 don't deal with ants. The 5th company uses (and recommends) a gel bait like the one I put down yesterday. In fact, it's the same one.
They said it's effective but takes 2-3 days to kill off all the ants in the main colony. That may be why we had ants again today-but not as many. The hardware store also sold us a spray we applied that is supposed to be more fast-acting.
It's possible you may see a few ants over the next 24 hours, but these two measures should do the trick. Let me know how things look tomorrow.
Jim
P.S. Again, Bill, sorry for the inconvenience. Please have a nice dinner out on us in consideration of your patience as we work to solve this situation. ($50 attached)
April 30 (I left a week before)

Hi Bill,
We want you to know how grateful we are that you have given us a chance to make the studio right. Even though we have been as due diligent as we could have been in many ways regarding the upkeep of the unit, perhaps our 73 five star reviews lulled us into overlooking some things that truly needed our attention.
We're doing so many things to improve the property.   When we're finished, we'll send you pictures and bills of completion. We hope you'll return and try us again once completed.
Thanks for your understanding and patience,
Bonnie
May 05 (almost two weeks since I left)

Hi Bill:
Hope you are doing well.
This is a quick update to let you know about our progress on the improvements:
Blinds are ordered. When they come, we will have our handyman install them. They are wider than the current blinds, so there is no gap between the door frame and the blinds.
Internet signal. We quadrupled the speed of the Internet we get from ATT (at no charge, when they found out we were planning to switch providers!). We also moved the signal range extender so it's going through a window instead of an adobe wall. Now I can stream video on my iPad anywhere in the studio or the courtyard with 4-5 bars. I'm glad you told me about this, by the way, since I had only used my laptop to check the signal. As it turns out, laptops have more powerful antennae than tablets, so we didn't realize there was a problem.
Electrical service. We have secured one quote and are getting two more this week to add an electrical sub-panel on the cottage, which would also mean installing two new dedicated lines for the air conditioner and microwave. It's about a $2,700 fix, but should do the trick, says the first electrician.
Your friends the ants. We had the unit treated with a pest control company, who will come back if they reappear. We've seen a couple stragglers, but nothing like the advancing armies you encountered. There were 2 kinds of ants, by the way. The large ones (you thought they might be a queen…) were actually carpenter ants.
Furnace. We have a call in to the repair man to replace the reset switch so it doesn't cut out accidentally any more.
That's the update. I will get in touch again in a couple weeks when all the work is done and we can send pictures of the blinds as well as receipts. Thanks again for your support. It really did give us a guests-eye view of stuff that needed to be handled.
Cheers, Jim
Updates since the above was published:
May 16 (three weeks after I left)

Hi Bill:
Meanwhile, another quick update on progress at the studio…
The blinds are on order, but taking a REAL long time to arrive. They are due next week (so they tell me…) We will have our handyman put them in, and I did buy the ones you found online. I ordered they a couple inches wider than the window, so they should offer complete privacy.
 We have contracted with an electrician to replace our entire panel on the main house and run new lines to the studio for the microwave, hot tub and A/C unit. This should reduce any possibility of circuits being broken again. It's costly, but overdue. Work scheduled for May 28.
 The pest control folks had to come again. The ants miss you and were wandering aimlessly around the studio trying to find you. I promise I will not disclose your location (especially since I don't know it…)

 Photos and receipts will follow in another 2-3 weeks when all work is complete.
 We are also replacing the sleeper sofa in the unit with a brand new one—queen sized.
 Cheers, Jim
 May 16 (after my reply: Thanks Jim. Sounds like you're investing a lot of time and effort into making it much better.)
Yes, Bill, we are investing a lot of time and resource into improvements. As Bonnie told you, we really care about the guest experience, and you gave us a wake-up call that work was needed. So, we are on it. Yes, we want to avoid a bad review. But more importantly, we want people to enjoy their stay.
Seeing how upset you were with multiple issues made us feel terrible, and we have resolved to do whatever it takes to fix it—ALL OF IT—so these never affect anyone again.
 We have a long list of things we've done over the years that guests have suggested. Examples include:
We added a garbage disposal
Upgraded the bathroom fan (it's quieter and circulates more air than it used to…)
Added an ice machine
Added robes
Installed dimmer switches on the main ceiling light panels
Added an iPhone capable speaker system
Upgraded to GFI circuits near the two sinks
Put towel racks on the bathroom door
Add a kitchen towel hook (guess who suggested this one!)
Enjoy the green in CO, Bill. It is getting "golden" here. (Nice way to say "brown.")
Cheers, Jim
July 02 (after I sent Bonnie and Jim a link to this blog)
Hi Bill:
Interesting travel log… I winced as I read your entry about our 6-legged friends, and am grateful that you changed the names to protect "Jim" and "Bonnie." Much appreciated!
As for the $150, they came out twice, spent a grand total (combined) of about 45 minutes, so I guess that price was probably about right. During repairs, we scheduled the work between guest stays (at least the major work like digging up the yard for new electrical lines) and worked the minor stuff around their coming and goings.
Anyway, the place is in better shape than ever, and we are (again) grateful for your feedback, even if it was a painful process to go through.
Safe travels, Jim
Read the story of my trip to California trip here: California 2015
See photos and videos here: California Trip Photos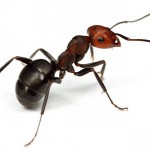 Ants and why they are important to the world and to you*
Ants are omnipresent and universal. There are many more ants on the earth than all other species combined. Why is that important? It is almost for certain you will encounter them during your life. (Check your soles, you may have encountered a few today.)

Ant colonies are described as superorganisms because the ants appear to operate as a unified entity, collectively working together to support the colony. (Could we humans learn something here?)

Some of the ants classified as pests include the pavement ant, yellow crazy ant, sugar ants, the Pharaoh ant, carpenter ants, Argentine ant, odorous house ants, red imported fire ant, and European fire ant.
Carpenter Ants Contrary to popular belief, carpenter ants do not actually eat wood because they are unable to digest cellulose. They only create tunnels and nests within it. Carpenter ant workers and swarmers (winged ants) are the most likely sign homeowners observe. The workers may be observed foraging for food. Swarmers usually are produced when a colony matures and is ready to form new colonies. These winged individuals often indicate a well-established colony. An additional sign of carpenter ant activity is the debris they produce from tunneling in the wood. Rough wood shavings mixed with parts of dead ants from the colony indicate carpenter ant nesting activity. A final sign may be the "rustling" sound sometimes heard as the ants go about their activity in the home's wood. (thank goodness I didn't know about the rustling sound) (I would have been laying in bed at night listening)

(from Orkin) In controlling an infestation of carpenter ants, it is necessary to first find the nest. Once found, it can be removed or treated chemically. All moisture conditions that the ants found conducive must be corrected. If treated early, carpenter ants are seldom responsible for serious structural damage to houses and buildings. However, these ants could cause extreme damage if they continue undiscovered for an extended period.  It is advisable to seek professional help in containing carpenter ant infestations, as incorrect procedures may allow the colony to rebound when surviving members resume their burrowing and foraging.
One interesting and practical use for ants in your life:
In some parts of the world (mainly Africa and South America), large ants, especially army ants, are used as surgical sutures. The wound is pressed together and ants are applied along it. The ant seizes the edges of the wound in its mandibles and locks in place. The body is then cut off and the head and mandibles remain in place to close the wound.
Just how many ants are there?
It has been estimated by E.O. Wilson that the total number of individual ants alive in the world at any one time is between one and ten quadrillion (10 to the 15th power). According to this estimate, the total biomass of all the ants in the world is approximately equal to the total biomass of the entire human race. Also, according to this estimate, there are approximately 1 million ants for every human on Earth. Said another way – It would take one million ants to weigh as much as one average human, give or take 10,000 ants.

*mostly from Wikipedia http://en.wikipedia.org/wiki/Ant